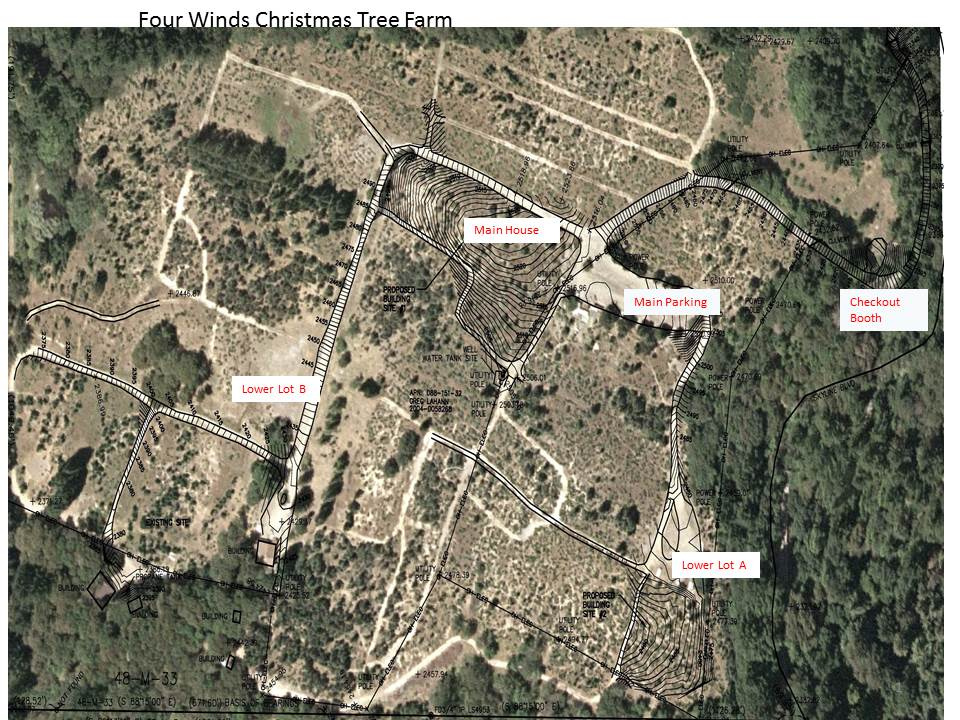 Four Winds Christmas Trees
Information
Welcome to Four Winds Christmas Trees. We have the following trees from most to least:
Douglas Fir, White Fir, Grand Fir, Spruce, Blue Spruce, Silvertip, Noble, Sequoia
Saws are available for pickup at the checkout booth when you come in. The property comprises 60 acres with the main roads leading to the upper (main) parking lot and from there to Lower Lot A to the left and Lower Lot B to the right past the main house. The main lot fills fast on weekends so proceed to the Lower Lot B if you are there during the busy times (usually 11 – 2). Feel free to park on the sides of the roads, except where indicated, but please leave room for cars to pass. The side roads will be slippery in rainy conditions, so please avoid if you have 2-wheel drive and be careful if you have 4-wheel drive. Our various trees are mixed throughout the farm, but the higher elevations tend to have more of the non-Douglas Fir varieties, and Douglas Fir dominates the lower elevations.
When you have selected your tree, please cut the trunk above the lower branches of the tree leaving at least 5 or 6 branches the size of your thumb. This gives the tree an opportunity to grow back.
Free netting stations are available next to the picnic area adjacent to the Main Lot and snack bar. The red netting station is for smaller trees (up to 8') and the green netting station is for larger trees. These are self serve, so just lay your tree on the table with the stump in the baler, pull your tree through and cut off the netting with the scissors tied to the baler. If you need help, please ask at the snack bar.
There is free twine in each parking lot in the orange buckets for tying your tree to your car. There are porto potties in each of the parking lots. On weekends we have free hot chocolate, hot cider and coffee at the snack bar, as well as snacks and soft drinks available for $1 each. Tamales and salsa on weekends (while they last!). There we also have mistletoe and wreaths for sale.
When your tree is secure in or on your car, please return to the checkout booth to return your saw and pay for your tree.
When you get home, make a fresh cut 1" from the bottom of your tree if you can, and either way, put it immediately in water. Keep the water level in your stand above the bottom of the stump to keep the tree fresh as long as possible. It will drink lots of water the first few days.
We hope you enjoy your visit, and if you have questions, ask the folks working here, or text Greg at 408 464-2707.